Scholz Team throws an 8-ender in Regina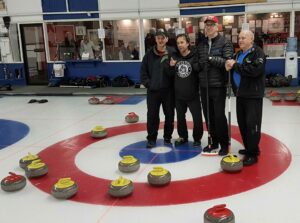 The 'Gee Bee' team, skipped by Guy Scholz, made history in the Briar by throwing an 8-ender while playing in the Regina, 2018 Friars' Briar.
In accomplishing the feat they tied up the game in the sixth end.  Members of the team included skip Guy Scholz along with other members George Budd, Rod Semeniuk and Ron Fengstad.
As far as one can recollect, this is the first time that an 8-ender has occurred in the history of the Friars' Briar.
Take a look at the picture and count those yellow stones!!